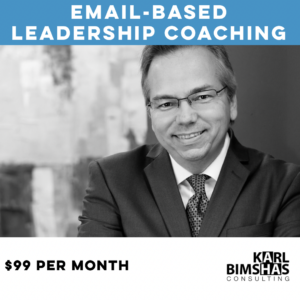 Karl Bimshas Consulting is willing to coach you through ANY leadership situation and help you to manage better and lead well, guaranteed!

I'll coach you step-by-step-via email so that you feel confident and grow your influence and effectiveness.
Whether…
– You want to find your personal and professional values,
– You want to know the best ways to set great goals,
– You've been neglecting your self-leadership and want to get back on track,
– You want to know how to tell if your mindset and attitude are in the right place,
– You're not sure when to share your mission and vision,
– Or, anything else.
Here's what you get as part of this service:
– Up to 10 emails per month – where I'll personally respond within 48 hours.
– Candid, unfiltered feedback with exact instructions on what to do or say!
– VIP pass to me so that your email gets answered fast.
– Ask anything you want! Self-leadership, One-on-one leadership, Team leadership, Goal setting, Strategy, Accountability. Nothing is off-limits. I've heard it all!