Rest and relaxation is crucial, but some business owners and executives have a tendency to take their foot off the gas pedal over the summer months.
DON'T!
Karl Bimshas Consulting's Leadership Fitness Program is an intensive 10-part goal creation, execution, performance, and accountability process that helps you improve your focus, make better use of your time, and grow your leadership capability.
Ideal if you feel you need better structure and, even though you hate to admit it, discipline.
Includes
Goal Discovery and Life Balance

– Find, set and get your next Great Goal.
Reassess your Commitment and Examine your Purpose

– Don't neglect the things you already have for the thing you still want.
Values Finder

– Confirm or select your important values and rank your competing priorities.
Create an Operating Principle

– Learn how to use your values to guide your vision, passion, and action with purpose.
Create the Master Plan

– Put your values and purpose to work for you on the most important areas of your life.
Personal Inventory

– Take stock of your current and required resources so you can achieve your Great Goal.
Success Metrics

– Creating a personal dashboard.
Daily Focus

– Success is a habit you need to create.
Anticipate and Manage Change

– Learn how to manage the change you want to make and address potential concerns that are likely to occur.
Create a Great Team

– Learn how to build an excellent performance oriented team to accelerate the achievement of your goal with tools to make meetings and decision making effective and productive.
---
"The one-on-one work with Karl Bimshas Consulting has helped to direct me down the right path. I appreciate the frankness and the tell-it-how-it-is approach. When we talk, I feel listened to and clearly understood. Every interaction leaves me feeling inspired, motivated, and smarter. I walk away from each coaching session feeling helped in my quest to become a better leader, manager, and business owner."
---
Are you a San Diego-based entrepreneur or executive who prefers private face-to-face coaching?
This is for you.
Structured and highly customizable to meet your needs, this is not short-lived rah-rah motivation. You will go deeper and uncover the a-ha within with astute, personalized insights to improve your essential leadership skills.
Face-to-face executive coaching and accountability.

Telephone and email availability.

Access to community of leaders.

You set the pace.
Your investment is $1,750 payable in three installments.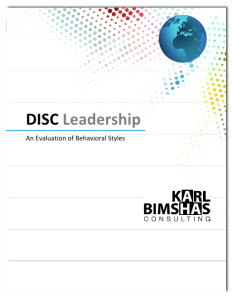 Save $250 by paying in full, plus receive a 50-page DISC LeadershipStyles Assessment free as a thank you for your commitment.