How Do You Know If
You're

a Good Leader?
Find out with a Leadership360 Assessment
Why does it feel like something "just isn't clicking" with your team?
Do you delegate when you should direct?
Do you provide too much coaching and too little support?
Are you talking when you should be listening?
---
Every professional questions their leadership ability from time to time. The ones that care look for feedback and then make adjustments to increase their effectiveness.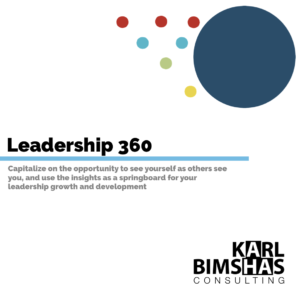 A Leadership 360 Assessment provides you with the opportunity to see yourself as others see you and use those insights as a catalyst for your leadership development.
Imagine the success you could have once you identify your current strengths, the areas where you need to improve, and then create a clear path of progression.
The Leadership360 Survey, based on observable capabilities that are routinely demonstrated by outstanding leaders, measures your current attitudes and skills in eight major areas.
1. Communication Skills
2. Decision Making
3. Innovation and Change 
4. Working Relationships
5. Leadership Skills
6. Coaching Skills 
7. Maximizing Strengths  
8. Team Development
How It Works
You'll rate yourself in each of these areas online. Then you send a link to your peers, managers and direct reports, who rate how much they agree/disagree with each statement as it relates to your leadership.
Once finished collecting all the responses you receive a multipage page report. It is like an unbiased mini performance review. You can use these results on your own or work with Karl Bimshas Consulting to craft an appropriate action plan.
Every executive interested in growth should continually hone their skills and invest in their personal development to reassess their leadership qualities.
Contact Karl Bimshas Consulting to Start Today