---
– Latest Release –
Whining is unattractive, unproductive and unprofessional.
Griping, complaining, and whining, especially at work, is easy to do. There are lots of problems you can point to, and many times it can feel like no one cares.
If you find yourself whining more and caring less, it is time to adjust your outlook, fast; otherwise, you are in danger of derailing your career. Maybe you think it's time to quit your job. Before you do that, quit your complaining.
"Nobody enjoys working with complainers – the people who seem to be perpetually ungrateful and gripe about everything that is wrong. Left unattended their toxicity can contaminate the entire team and organization. So, how can you help them? Start with yourself first."
– From the Introduction
In "How to Fix Your Whine at Work," leadership advisor Karl Bimshas, quickly and bluntly provides 12 tips to help you, or someone you love, to manage better and lead well.
Part One of a three-part leadership development series, each tip in this guide is designed for you to increase your responsibility and self-leadership so you can halt the negative spiral and improve your attitude.
As with all his writing, the quick snippets Bimshas offers are easy to digest and implement right away.
---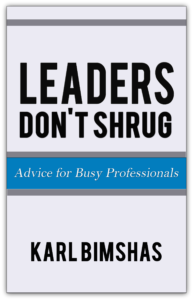 A collection of quick reminders, advice, and humor for busy professionals who want to be better leaders.
Taken from the writing of leadership author and consultant, Karl Bimshas, the thoughts inside this book will broaden
your perspective, challenge your assumptions, and inspire you to lead
better.

---
More Business and Inspiration Books from Karl Bimshas Available on Amazon