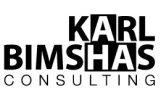 Save time and make payments to Karl Bimshas Consulting with your PayPal account.
Pay via PayPal
If you have received value from any of Karl Bimshas Consulting's complimentary services, workbooks, workshops, blog posts, and other writings, you can show your appreciation by clicking the link below and paying any amount equal to the value you received.
Thank you! We are grateful for your support.
Pay via Venmo