---
Are you feeling overwhelmed and on the brink of giving up? Do you find yourself constantly complaining about your job and lacking motivation? It's time to change your mindset and take control of your career.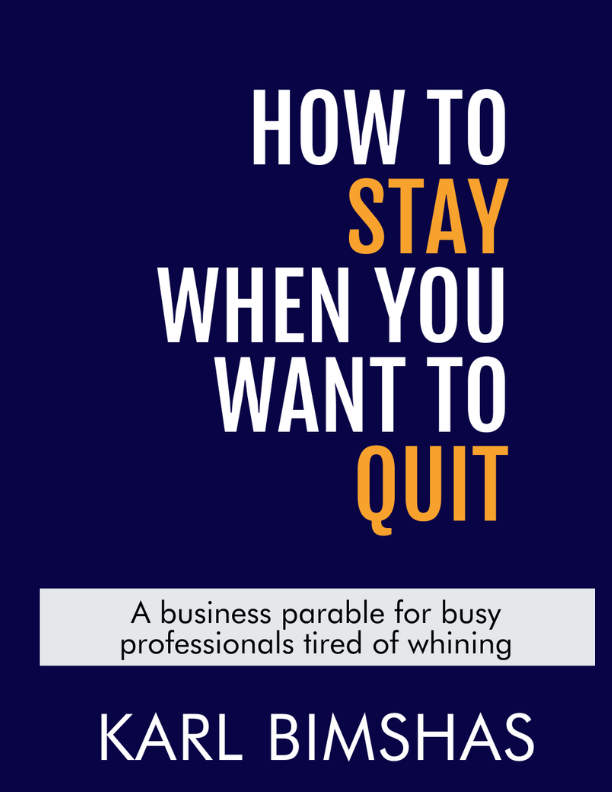 Introducing "How to Stay When You Want to Quit"
– a powerful business parable that will inspire and guide you through the toughest times. This captivating story follows two friends, Max and Maddie, as they navigate their careers. Maddie thrives under the guidance of a supportive boss, while Max struggles to find fulfillment amidst a string of disappointing managers.
Book Description
Do you ever find yourself daydreaming about quitting your job? Does the monotony of your office environment drain your spirit and leave you feeling unfulfilled? If so, you're not alone. But what if there was a way to find fulfillment and meaning in your current job, even when it feels like an uphill battle?
In "How to Stay When You Want to Quit," Karl Bimshas presents a powerful and engaging business parable that will resonate with busy professionals tired of whining. Through the captivating story of Max and Maddie, two friends navigating their careers, Bimshas takes you on a journey of self-discovery and transformation.
Max is stuck in a job that he feels is sucking the life out of him. Uninspiring managers and a soul-crushing work environment surround him. But when he opens up to Maddie, his wise and supportive friend, he sees things in a new light. Maddie shares her insights and experiences, teaching Max to change his attitude, find his passion, and make a positive impact.
Throughout the book, Bimshas provides practical tips and thought-provoking reflections to help you navigate the challenges of your career. He encourages you to take responsibility for your actions, adapt to change, and protect the things that bring you joy. He introduces a seven-day journaling exercise to help you process your emotions and pave the way for personal growth and development. He also delves into four essential aspects of effective leadership: being a strong leader, having a compelling vision, embracing overwhelming optimism, and providing meaningful recognition.
If you're tired of complaining and ready to take control of your career, this book is for you. Join Max and Maddie on a transformative journey, and let "How to Stay When You Want to Quit" inspire you to become a winner in your own life.
Key Benefits of "How to Stay When You Want to Quit":
Motivation and Inspiration: Uncover the secrets to staying motivated despite adversity.
Self-Reflection and Personal Growth: Reflect on your strengths, weaknesses, and aspirations to drive personal development.
Strategies for Overcoming Challenges: Gain practical techniques to overcome obstacles and succeed in your career.
Improved Job Satisfaction: Discover how to find fulfillment and satisfaction in your current role or transition to a more fulfilling career path.
Enhanced Leadership Skills: Acquire valuable leadership skills and insights to excel professionally.
Strategies for Dealing with Frustration and Burnout: Learn effective methods to manage frustration and prevent burnout, ensuring long-term success and happiness.
Greater Resilience and Perseverance: Develop resilience and perseverance to tackle challenges that come your way.
Practical Exercises and Prompts: Benefit from actionable exercises and prompts to implement the book's teachings in your life.
About the Author
Karl Bimshas is a prolific writer and leadership advisor with a unique ability to inspire individuals to achieve their goals. With a leadership coaching and consulting background, Bimshas brings a wealth of experience to his writing. He has authored several books on leadership, including the popular titles "Lead on Purpose" and "Strengthen Your Leadership Without Becoming a Jerk." Bimshas' talent extends beyond the business realm, as he is also a fiction writer with captivating titles such as "A Habit of Smoldering" and "Three Blinks and a Sigh."
---
WHERE TO BUY IT
Praise for the Book
I read "How to Stay When You Want to Quit," and it was full of helpful anecdotes that turned my negative thinking into more constructive/pragmatic thinking, not only about my job but also my place in the world as a whole. His writing is cleverly written and super informative. Highly recommend!
-Jenny S.
---
Who is this book for?
"How to Stay When You Want to Quit" is primarily for busy professionals who may be disillusioned, frustrated, or tempted to quit their jobs. It is for individuals seeking guidance and inspiration to overcome challenges, find renewed motivation, and achieve greater career fulfillment.

Specifically, the book is for:

Professionals facing career dissatisfaction: It is for individuals who are unhappy or dissatisfied in their current jobs and are contemplating leaving. The book offers insights and strategies to help them reevaluate their situations, develop a positive mindset, and find ways to improve their job satisfaction.
Those experiencing burnout or frustration: The book is beneficial for professionals who are dealing with burnout or experiencing frustration due to various challenges in their work environment. It provides strategies for managing stress, avoiding burnout, and finding ways to stay motivated and engaged.
Individuals seeking personal growth and development: The book appeals to those interested in personal growth and self-improvement. It encourages readers to self-reflect, identify their intrinsic motivators, and align their actions with their values and aspirations.
Aspiring leaders: The book is relevant for individuals who aspire to become more effective leaders within their organizations. It offers guidance on developing leadership skills, taking responsibility, and making a positive impact in the workplace.
Professionals needing inspiration and motivation: The book provides stories, examples, and practical tips to inspire and motivate individuals who may be demotivated or stuck in their careers. It aims to reignite their passion, restore their enthusiasm, and help them find new ways to approach their work.
Those interested in mindset shifts and positive attitude: The book is suitable for individuals who recognize the importance of maintaining a positive attitude. It offers strategies for adopting a more positive outlook, overcoming obstacles, and reframing challenges as opportunities for growth.