Whether you call it therapeutic writing, writing therapy, expressive writing, or journaling, studies show the regular and deliberate practice of writing for 15-20 minutes per day helps you;
Deafen the endless worry loop you replay in your head.
Deal with recent or long-held trauma.
Ease symptoms of some illnesses.
Boost your immune system.
That's why in 2008 I created The Disposable Journal. A booklet-sized journal with a weeks worth of daily prompts, designed for you to take on your biggest challenges.
This unique journal isn't for writers to capture great prose. It's for busy professionals who want to regain control of their emotions.
I've been using this system on and off as life's dramas have unfolded, and, to be honest; it seldom takes a full week to get me back on track.
About the Disposable Journal;
Portable. You can complete a writing session anywhere at any time.
Insightful. Helps you make sense of your troubles and regain control.
Personal. It is for your eyes only.
Disposable. When you're done, you can shred it, burn it, bury it … the choice is yours.
The Disposable Journal is available in single or multi-packs
(Stock up for the month or share with your friends and colleagues.)
Need one fast?
For larger quantities contact Karl Bimshas Consulting for a quote.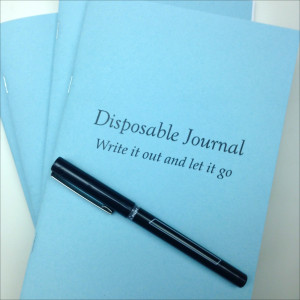 Order Your Disposable Journal Now
---
Click to sign-up for a FREE Virtual Disposable Journal
Receive seven days of prompts via email.