Call me biased, but I love October 1st. Yes, it's my birthday, and that adds to the festive spirit. It's my favorite season. I prefer the chill in the air, and the sight of the last gasps of color bursting from the leaves of trees. Alas, the current climate in San Diego doesn't quite pass Autumn muster. It is the sacrifice one makes living this side of paradise.
It's also the beginning of the last quarter of the year. That might fill you with dread and a, "tsk tsk, where does the time go?" feeling. Hopefully, it also puts a pep in your step. There's still time to make your goals for the year, but every day is precious. That is the feeling you should have all year. Unfortunately, most don't. Most procrastinate, or work in fits and starts. It doesn't have to be that way.
October 1st has always been like a mini New Year's day for me. A date on the calendar I can circle and declare what will be done by then and what I will start anew. I hope you adopt a similar feeling.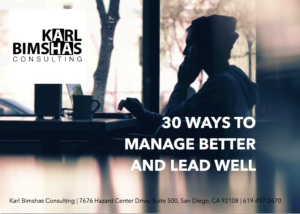 As thanks for being a loyal reader and a student of leadership and personal development, please accept a small birthday gift from me. 
Download 30 Ways to Manage Better and Lead Well
from our Downloads and Tools page and discover the simple things you can do to make you a better leader.