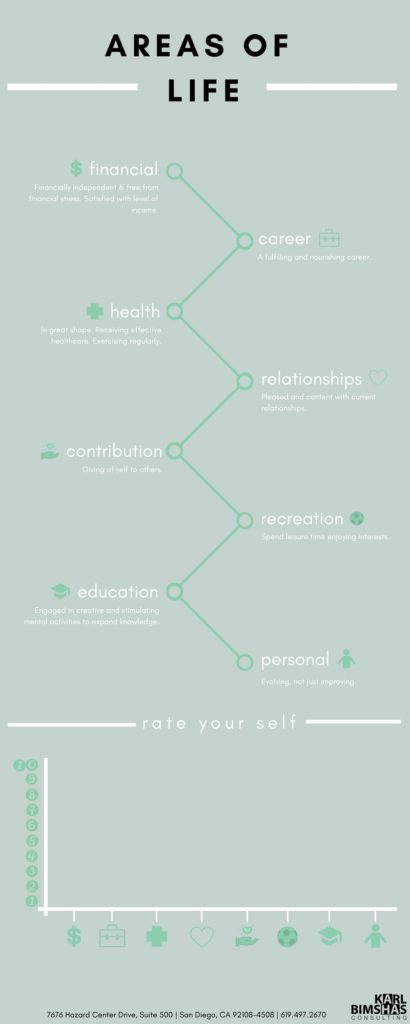 I don't like the personal development industry's "Wheel of Life" because I think balance is the wrong thing to attempt to achieve. Have you ever tried to accomplish perfect balance? Balancing anything is difficult and all-consuming. The practice requires precision, patience, and a bottomless supply of trial and error. These traits aren't inherently bad, but you don't want to use them on something a grand as your life. The attempts are distracting, typically fruitless, and let's be honest, sucks the joy out of the moment. What's the alternative?
Harmony.
Use whatever criteria you consider to be the critical elements of your life (I've included suggestions below) and rate your current satisfaction in each.
There's not a right or wrong. You don't need 10s across the board. Think of them collectively like an equalizer on a stereo and decide what works for you. If you like heavy bass, adjust to your taste and the needs of the moment, (which could be a month, a season, a decade.)
Harmony is more pleasant than balance and infinitely easier to achieve. A new phase in life? New priorities? Recalibrate the equalizer.
Explore your self-perceptions
Examples of someone highly satisfied might look like this:
Financial – Financially independent and free from financial stress. Satisfied with your current level of income.
Career – A fulfilling and nourishing career. On a positive career path.
Health – In great shape. Receiving effective healthcare. Exercising regularly and eating for sustenance and pleasure, not emotional comfort.
Relationships – Pleased and content with current relationships. Loved by the people who mean the most to you.
Contribution – Giving of yourself to others.
Recreation – Spend leisure time enjoying your interests. Relaxation, refreshment, and pleasure.
Education – Engaged in creative and stimulating mental activities. Use resources available to expand knowledge.
Personal – Evolving, not just improving, because you continually experiment.
Rate your current level of satisfaction in each dimension of your life with a score between 0 (Very Dissatisfied) and 10 (Highly Satisfied) and Plot your current level of satisfaction.
Record your three highest and lowest rated areas.
Why are these your highest and lowest rated areas?
Did you notice any trends or themes?
Given these scores, what two areas are you willing to improve over the next six months to make the most significant difference in your life?
Congratulations, answering these questions will give you more insight and self-reflection than most people will invest in a year.
Now, act on purpose.