I'm pleased to announce the second volume in our new three-part leadership series, "Manage Better and Lead Well." 

These short read e-books are designed for busy professionals who want to manage better and lead well in their new or well-established leadership role.
​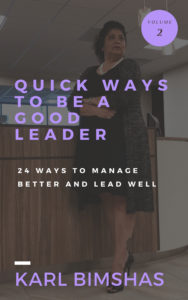 "Quick Ways to Be a Good Leader; 24 Tips to Manage Better and Lead Well" is now available on Amazon.
Each of the 24 tips described in this guide are designed for you to increase your leadership ability by approaching things from a different perspective, maintaining your professionalism, and treating people with respect and dignity.

​

 
Use the insights as a daily reminder, or turn them into an action plan for a month's worth of leadership development. Refer to them often, and you will have a head start managing better and leading well.