I've got a new book out!

It is the third in the "Leadership Essays" Series.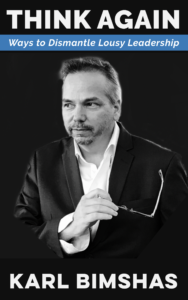 It can feel like we are in the midst of a lousy leader epidemic. From laughable errors in judgment and illogical lapses in commonsense, to plots that are more sinister, it's easy to mock those in power. There's a better way. Step up and provide better leadership.

"Think Again; Ways to Dismantle Lousy Leadership"

The essays, thoughts, and musings in this edition can act as a guidebook on preventative care for lousy leadership.

Get your copy here
[maxbutton id="8″ ]
Thank you for your support!
Manage better and lead well! 
-Karl