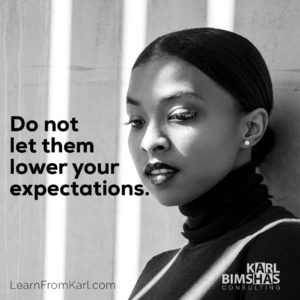 Never want to be disappointed? Have low expectations. You exert minimal effort and plod through life. You don't expect much; you don't get much. It's a cynical philosophy way too many people adopt because it's easier. It's also crappy advice lousy leaders tend to give others.
Great leaders know that one of life's biggest disappointments is unfulfilled potential. They know that the only way you lift yourself and others is to expand your expectations. People who expect the best often receive the best. Do people fall short? Of course, and good leaders accept the blame and help lift them.
You can promise good and deliver great all you want. It's a reasonable strategy. However, don't ever expect less of people to save yourself the disappointment. It's demeaning. You'll notice the people who adopt this philosophy are typically sullen and angry with the world. They play victim or dole out self-righteous rhetoric. You're better than that.
Effective leaders face disappointments every day. Like everyone else, they would prefer not to be unhappy with results, but they accept reality. Disappointment doesn't debilitate them; it inspires new approaches. They know dwelling in dissatisfaction helps no one.
When you set goals for yourself and others, always raise your expectations. To do otherwise is leadership malfeasance. However, don't think that a "set it and forget it" method will work for you. Make an effort and help people reach and exceed expectations. Always.