The importance of confidence and support in achieving success in various aspects of life, including work and personal relationships, is often overlooked. It requires honest self-reflection to find strategies for boosting confidence and supporting oneself and others. The Confidence & Support Matrix, used by Karl Bimshas Consulting, is a framework to understand the impact of leadership on employee experiences and outcomes, explores how confidence and support can be applied in family interactions, and highlights the overall benefits of considering these factors in personal and professional contexts.
Fundamentally, you are responsible for achieving high levels of personal confidence and support in any task you undertake, whether at home, work, or anywhere between. Now, if external factors easily influence you, this can become problematic. For example, suppose you excel in a particular task but frequently receive negative feedback from others. In that case, it can gradually erode your confidence. Even if the feedback is unfounded, the demoralizing impact remains the same.
HELP YOURSELF
Perhaps you are surrounded by sycophants who always agree with you. Their motives, political, intimidation, or poor judgment, are irrelevant; you inevitably start believing them over time, even if you lack competence in areas they cheerlead. That's why honest self-reflection is crucial for your leadership growth and development.
Do you have a high or low level of confidence in your abilities?

Do you receive substantial support for your initiatives?

How can you boost your confidence if your confidence and support levels fluctuate? Confidence stems from feeling competent in something, which means you have prior experience and success. Even those with natural talents don't start as experts; it requires practice, repetition, and learning.
How do you increase your support? Generally, support comes from others, but it begins with yourself. How supportive are you of your efforts? Do you have positive thoughts and celebrate your accomplishments, or do you routinely downplay them?
Where you find support can vary. You may feel well-supported by nature, your faith, or your family. If you become the average of the five people you spend the most time with, are these individuals supportive and encouraging? Support isn't about empty compliments; sometimes, it's the people who love you telling you when you've acted like a jerk. That is far more supportive than quietly tolerating your behavior.
HELP YOUR TEAM
As a leader, you must ensure that the people who rely on you for guidance and inspiration also receive adequate confidence-building and support.
A direct report with low confidence and low support will feel neglected. How much can an ignored person contribute to the team?

A direct report with low confidence and high support will feel encouraged. This keeps them engaged. Focus on helping them build their skills further.

A direct report with high confidence and low support will feel frustrated. Many highly skilled people cannot utilize their abilities effectively because they are either in the wrong position or their manager consistently overlooks them. Competent leaders recognize this immediately and make amends.

A direct report with high confidence and high support forms the foundation of a high-performing team. There is immense satisfaction in surrounding yourself with capable individuals and celebrating their regular accomplishments. Getting to that point is no cakewalk, but these are the people you want on your team.

Effective leaders create environments where people feel valued and keep them feeling that way. If you fail to achieve this, all your other leadership achievements become insignificant. Your task is to build confidence and support in your team. Confidence and support are essential for creating a positive and productive work environment where people feel valued, inspired, and allowed to perform at their best. But how do you foster confidence and support in your direct reports? How do you help them grow and develop as professionals and as individuals? How do you show them that you care about their success and well-being?
CONFIDENCE AND SUPPORT
The successful completion of a task depends on the combination of two factors: levels of confidence and levels of support. High levels of both confidence and support contribute to increased task completion rates, making the process more meaningful and likely to succeed. Conversely, lower levels of confidence and support can have a negative impact. Let's explore each in more detail:
Levels of Confidence: Confidence refers to an individual's belief in their abilities to accomplish a task. When team members have high confidence levels, they are more likely to approach challenges positively, take risks, and persist in facing obstacles. This self-assurance can enhance motivation and productivity, leading to higher chances of task completion.
Levels of Support: Support relates to the resources, guidance, and assistance provided to individuals or teams. It encompasses various aspects such as managerial support, collaboration among team members, availability of necessary tools and resources, and a supportive work environment. Strong support systems foster a sense of security, trust, and autonomy among employees, helping them to perform at their best.
When both confidence and support are high, individuals or teams experience synergy, their combined efforts exceed the sum of their contributions. This synergy can lead to more meaning and success. Conversely, when either confidence or support is lacking, the chances of completing tasks successfully diminish. Low confidence leads to self-doubt, hesitation, and decreased motivation, and insufficient support creates feelings of overwhelm, frustration, and inadequate resources.
Consider the following strategies:
Building Confidence: Encourage individuals to set achievable goals, provide constructive feedback, recognize and celebrate achievements, offer professional development opportunities, and foster a supportive and inclusive culture that values individual contributions.

Providing Support: Ensure employees have the resources, tools, and training to perform their tasks effectively. Foster open communication channels, encourage collaboration and teamwork, provide guidance and mentorship, and address any barriers or challenges hindering progress.

By addressing confidence and support factors in managing tasks, you can create an environment that promotes success, productivity, and meaningful outcomes for individuals and the organization.
BUILDING CONFIDENCE
Confidence is the belief in one's abilities and potential. It is the foundation of self-esteem. It is also contagious: when you are confident in yourself, you inspire confidence in others. And when your direct reports are confident in themselves, they are more likely to take the initiative, embrace challenges, learn from feedback, and achieve their goals.
Here are a few simple and practical suggestions to build confidence in your direct reports:
Acknowledge their positive qualities and accomplishments. When you recognize your direct reports' strengths and achievements, you show them that you appreciate their contributions and value their skills. You reinforce their sense of competence and confidence in their abilities. Be specific and sincere when giving recognition, and do it frequently and publicly.

Provide them with constructive feedback and guidance. Feedback is essential for learning and improvement, but it can also affect one's confidence depending on how it is delivered and received. To give constructive feedback, focus on the behavior rather than the person, use positive language rather than negative, and balance criticism with praise. To provide useful guidance, offer suggestions rather than directives, ask questions rather than give answers, and encourage exploration rather than dictating a prescription. Doing so, you help your direct reports improve their performance while respecting their autonomy and agency.

Delegate tasks and responsibilities to them. When you delegate tasks and responsibilities to your direct reports, you allow them to learn new skills, take ownership of their work, and demonstrate their capabilities. You also signal that you have confidence in their potential and are willing to support them.

BUILDING SUPPORT
Support is the provision of assistance and encouragement to someone who needs it. It expresses care and concern for someone's well-being and success. When your direct reports feel supported by you, they are more likely to be loyal, committed, engaged, and satisfied with their work.
Here are some basic and powerful suggestions to provide support to your direct reports:
Listen actively and empathetically to what they say. Pay attention to the speaker's words, tone, body language, and emotions. Understand their perspective, feelings, needs, and goals. When you listen actively and empathetically to your direct reports, you show them that you respect their opinions and value their input. You also create a space for them to express themselves freely and honestly.

Communicate openly and transparently with them. Share clear and timely information and expectations and invite feedback and dialogue from your team. Doing so shows them you are honest, and accountable, and value collaboration and mutual understanding.

Coach and mentor them. When you coach and mentor your direct reports, you help them identify and achieve their personal and professional goals by enhancing their skills, knowledge, and performance. You also share your expertise and experience with them. Doing so shows them that you care about their growth and development and build a relationship of trust and respect.

REFLECT ON YOUR LEADERSHIP
Building confidence and support in your team is not only beneficial for them but also for you and your organization. It is not a one-time event but a continuous process that requires constant effort, attention, and adaptation. Reflect on your leadership style and practices and ask yourself:
How do I recognize the strengths and achievements of my team?

How do I provide constructive feedback and guidance?

How do I delegate tasks and responsibilities?

How do I listen actively and empathetically?

How do I communicate openly and transparently with my team?

How do I coach and mentor my team?

How can I improve in any of these areas?

Remember: as a leader, you have the power and the responsibility to make a positive difference in the lives of your direct reports.
THE CONFIDENCE & SUPPORT MATRIX
Effective leaders are expected to inspire, motivate, and facilitate their team members' growth, engagement, and performance. They accomplish this by building up levels of confidence and support. This includes creating a supportive culture, providing resources, guidance, offering constructive feedback, and recognizing achievements. Karl Bimshas Consulting's Confidence & Support Matrix provides a helpful framework for understanding the potential impact of leadership on employee experiences and outcomes.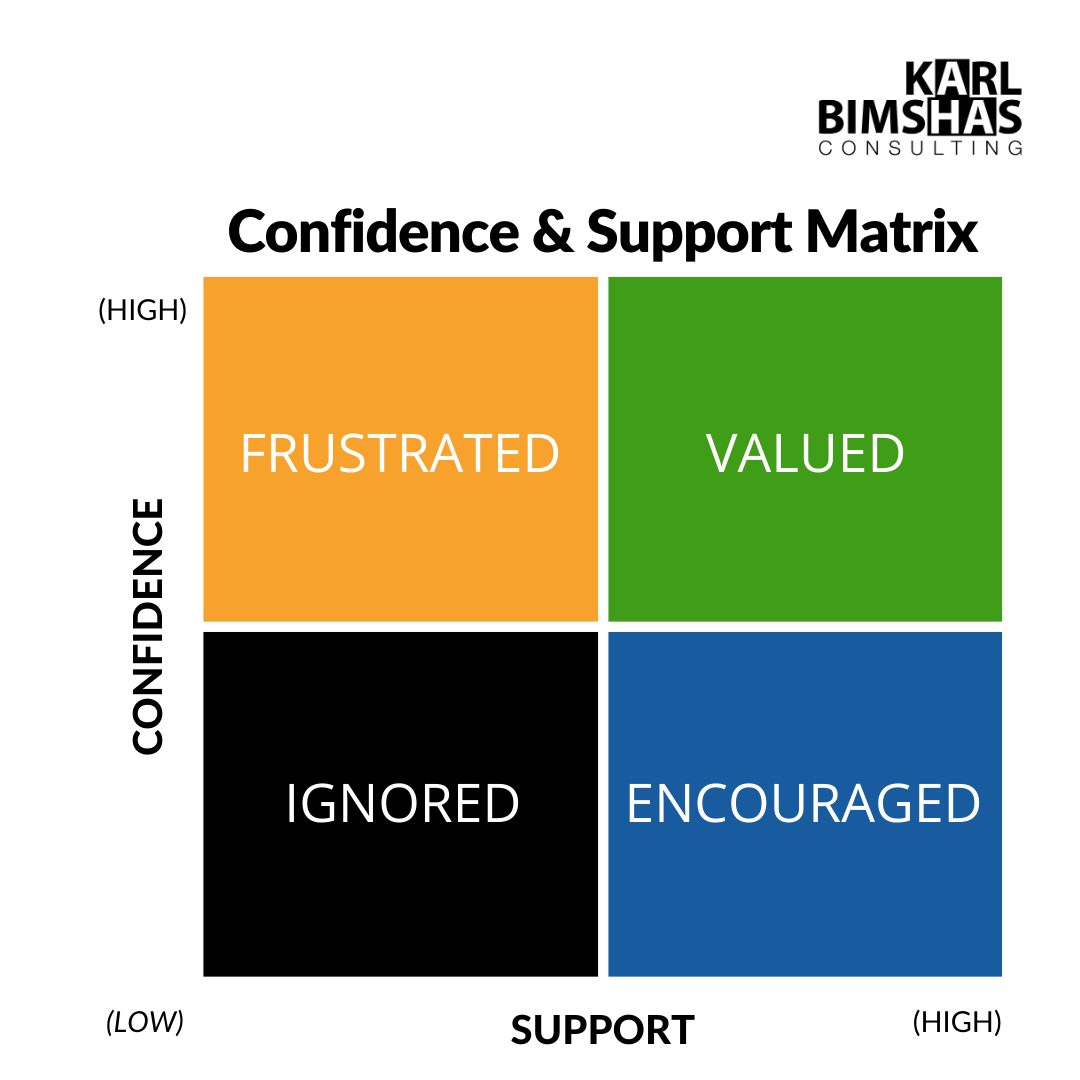 Let's go through each quadrant and understand its label:
IGNORED (Low Confidence and Low Support): This quadrant represents low confidence and support. In such cases, individuals may feel neglected or overlooked. They may lack the necessary resources, guidance, or recognition to perform their tasks effectively. This can lead to disengagement and reduced motivation, as their efforts and contributions are not acknowledged or supported.

FRUSTRATED (High Confidence and Low Support): The FRUSTRATED quadrant represents scenarios where individuals possess high levels of confidence in their abilities but receive limited support from the organization or their peers. This situation can lead to frustration because individuals believe they have the skills and capabilities to succeed but face barriers or obstacles that hinder their progress. They may feel unsupported and find translating their confidence into tangible results challenging.

ENCOURAGED (High Support and Low Confidence): The ENCOURAGED quadrant reflects situations where individuals receive high levels of support but may lack confidence in their abilities. A supportive environment, resources, and guidance can help individuals overcome self-doubt and build confidence. With encouragement and assistance from others, they may feel more empowered to take on challenges and increase their chances of success.

VALUED (High Support and High Confidence): The VALUED quadrant represents the ideal scenario, where individuals have high levels of confidence and support. In this quadrant, individuals feel valued and appreciated by the organization. They have confidence in their abilities and receive the necessary support, resources, and recognition to accomplish their tasks effectively. This combination fosters a positive work environment, motivation, and a sense of belonging, leading to higher productivity and successful outcomes.

Categorizing different combinations of confidence and support into these quadrants is a helpful tool for leaders striving to create an environment where people feel valued and supported to assess and address the needs of their team members. While lousy leaders may allow people to flounder in the Ignored or Frustrated quadrants, the goal of an effective leader is to move individuals or team members toward the Encouraged or Valued quadrants. Effective leaders must proactively create an environment that fosters confidence and support.
BEYOND WORK
These principles apply beyond the workplace, including family interactions. While the dynamics and goals differ from those in a professional environment, the concepts of confidence and support play a significant role in fostering healthy and fulfilling relationships. Let's explore how these principles might apply at home:
Confidence: In a family setting, you nurture confidence by building a sense of belief and self-assurance in each family member. Encourage open communication, provide constructive feedback, and recognize individual strengths and accomplishments. When family members have confidence in their abilities and value themselves, they are more likely to engage positively in family interactions, express their opinions, and contribute to the family's well-being.

Support: Support in a family context refers to providing emotional, practical, and relational assistance to one another. Family members can support each other by actively listening, offering guidance and advice, being empathetic, and being physically present when needed. Provide a nurturing and safe environment, respect individual boundaries, and address conflicts constructively to contribute to a supportive family dynamic.

By combining high levels of confidence and support within the family, you can achieve several positive outcomes:
Stronger Relationships: Family members are more likely to build trusting and meaningful relationships when they feel confident and supported, leading to better communication, collaboration, and understanding among family members.

Emotional Well-being: Confidence and support within the family can enhance the emotional well-being of individuals creating a sense of belonging, acceptance, and love, leading to greater happiness and resilience.

Personal Growth: Each family member can explore their interests, pursue goals, and overcome challenges with the knowledge that they have the support and belief of their family.

Effective Problem-Solving: A family environment that values confidence and support can facilitate effective problem-solving. Family members can openly discuss issues, brainstorm solutions, and work towards resolutions with a shared sense of confidence and support.

Of course, family dynamics can be complex, and each family has unique challenges and dynamics; however, by integrating these principles of confidence and support, family members can create a positive and nurturing environment that promotes the well-being and growth of everyone involved.
OVERALL BENEFITS
The Confidence and Support Matrix serves as a valuable tool for individuals, leaders, and organizations in several ways:
Self-Assessment: Individuals can use the matrix to assess their levels of confidence and support in various aspects of their lives, such as work, personal relationships, or personal goals. By reflecting on their current quadrant placement, individuals can gain insights into areas where they may need to work on building confidence or seeking support.

Leadership and Management: Leaders and managers can utilize the matrix to assess the dynamics within their teams or organizations. By understanding the quadrant placements of team members, leaders can identify individuals who may feel ignored, frustrated, encouraged, or valued. This awareness allows leaders to tailor their leadership approach and provide targeted support to improve team morale, engagement, and performance.

Communication and Collaboration: The matrix can facilitate effective communication and collaboration within teams or families. It provides a common language and framework for discussing confidence and support levels. Team members or family members can openly share their quadrant placements, fostering understanding, empathy, and collaborative problem-solving opportunities. This tool encourages discussions about enhancing confidence and support to create a more positive and productive environment.

Performance Enhancement: By using the matrix, individuals and organizations can identify areas that need improvement and take action to enhance performance. It can highlight situations requiring increased confidence or support to overcome challenges, achieve goals, or improve outcomes. Performance and overall well-being are enhanced by moving individuals from (Ignored or Frustrated) to (Encouraged or Valued).

Organizational Culture: The matrix can contribute to shaping a positive organizational culture that values confidence and support. Organizations can foster a culture that promotes growth, engagement, and overall success by integrating the matrix into performance management systems, feedback processes, and talent development programs.

The Confidence and Support Matrix benefits individuals, leaders, and organizations with a visual framework to assess, reflect upon, and enhance confidence and support levels. It promotes self-awareness, communication, collaboration, and performance improvement, ultimately leading to greater satisfaction, engagement, and success in various contexts. Let me know how you find success with it. In the meantime, keep advancing confidently in the direction of your dreams and help others along the way.