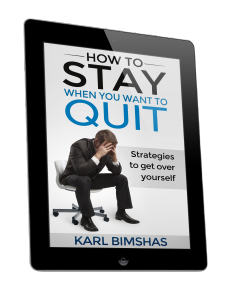 The second edition of
How To Stay When You Want To Quit
Strategies to get over yourself
This book is for those who find themselves in the disheartening position of no longer loving their job or current situation and wanting to quit, but feeling trapped. There are no quick fixes in this short story, but there are plenty of ideas presented that you can apply right away.
There are a few changes from the first edition, which was published in 2008.
It's still a story about one friend helping another transfer from a whiner to a winner. But to give you a jumpstart on thinking differently, one of the friends is now, you. It may not be you exactly, but I think you'll find similar, immediately identifiable traits.

Being miserable and disengaged serves no one, least of all you, so take action. Read along to uncover how Madeline shares what she has learned to help you stay when you want to quit, and develop strategies to get over yourself.
Resources
6 Worksheets
To facilitate your taking immediate action, there are several forms I've created that support concepts from this book. They include:
Value Matrix

Five Smart People to Learn From

Action Plan

Strengths and Weaknesses Worksheet

10 Best Excuses

Recognition Plan
You can download them all as a set
The Disposable Journal
Purchase your own copies of the Disposable Journal
Coaching
Interested in working with Karl Bimshas?
Contact Form
We love hearing from you! Please fill out the parts of this form that apply and we will get in touch with you shortly.