---
What People Have Said About Karl Bimshas Consulting Workshops
" It took me to places I wasn't expecting and gave me tools that will help the inevitable process of change go smoother. The intimate setting is perfect for more one on one coaching. I would highly recommend it."
"Karl Bimshas is more than a guide for leaders. He is a powerful teacher and brings a depth of understanding of people and business to his workshops, coaching, and interactions. And his sense of humor make it all easy to digest."
"I really appreciated the clarity that the workshop provided, as well as new ideas on how to move through change with greater ease and insight, whether the change is personal, business, or simply life happening. I highly recommend any of Karl Bimshas' workshops. He's a great instructor!"
"Helped put things into perspective. Thank you!"
"I really liked the idea of how to come up with a personal statement by pulling all of our values and strengths. Definitely something I am going to continue to work on."
"This was really helpful and thought-provoking."
"I walked away with a stronger sense of purpose."
[inbound_button font_size="16″ color="#ff8000″ text_color="#ffffff" icon="question-circle" url="https://www.bimshasconsulting.com/contact/" width="" target="_self"] Ask Us About Other Workshops[/inbound_button]
Tame Your Troubles

Regain control and reduce the wily troubles that make you feel anxious.
Busy professionals have many problems, and it's easy to feel overwhelmed with the competing needs of your business, family, and personal life. Being overwhelmed and lacking control doesn't feel very good and doesn't inspire strong leadership. In Taming Your Troubles, Leadership Advisor, Karl Bimshas walks you through six steps that will help you reduce the number of problems you're facing (and your anxious feelings around them.) In less than one hour you'll have less pressure and far more focus. You'll uncover the most significant obstacles to address, and then create a high-impact action plan that allows you to regain control of your life so you can manage well and lead better.

In this workshop you will:
Learn ways the six simple steps to reduce your problems.

Have less pressure and more focus.

Create an action plan that gets results.
---
Other Workshops
---
Better Business Relationships

An Introduction to Account Management
Account Management (the management of sales and relationships with existing clients) isn't just for Fortune 500 companies. This workshop provides small business leaders an introductory overview of Account Management and how it can strengthen your relationships and revenue. Perfect for busy professionals who have long-standing agreements, or conduct business with several decision makers within an organization.
In this workshop you will:
Learn ways to identify which of your key accounts (customers) could benefit.

Set realistic goals for growth and learn how to create a professional account team.

Find out the 5 key elements for effective and powerful internal and external account reviews.
---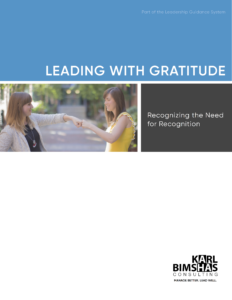 Leading with Gratitude
Stop being stingy with recognition.
Raise your hand if you are receiving too much recognition for your work. Keep it up if you're giving too much recognition to other.
Why do busy professionals keep screwing this up?
This workshop provides small business owners, or leaders of large departments, with a reminder that the results they seek will come through the efforts of others.
---
Leading Change
Change is scary. It's also inevitable.
Leaders see things differently from the status quo. Unfortunately, most people don't like change. Minimize the anxiety and simplify the process. Learn how to lead change in a way that alleviates fears and concerns — your own and others.
This workshop is for small business owners, or leaders of large departments, who want their organization to be prepared for changes, instead of freaked out and paralyzed.
In this workshop you will:
Reduce unhelpful worrying.

Use models to anticipate the concerns of your team.

Pilot and test change to avoid costly mistakes.

Leverage your detractors to strengthen your resolve.
---
Being Client-Centered 
Bringing Your Heart to the Customer Experience
If you say, "All of my customers love me," think harder. They don't. In fact, many clients will endure a lousy relationship with you … until someone better comes along.
You will; Learn the formula clients unwittingly use to judge you, Discover ways to improve your relationship with your clients, Assess critical customer-driven behaviors, Draft a plan to improve loyalty and value.
---
Your Personal Compass
Find Direction in Your Life No Matter How Lost You Feel
Not getting the results you planned and feeling exhausted with nothing to show for it?
It's because your personal compass is not aligned with your organization's goals.
If you're confident you already know your personal vision, mission, and values, this isn't for you. This is for leaders who aren't sure, or have been too busy to think about it.
In one of Karl Bimshas Consulting's most popular leadership workshops you will: Draft a "sensible" vision, Uncover your personal mission, Validate your values, and Honor your downtime.
---
Contact 

Karl Bimshas Consulting to learn about other leadership workshops or schedule a personalized training for your group.