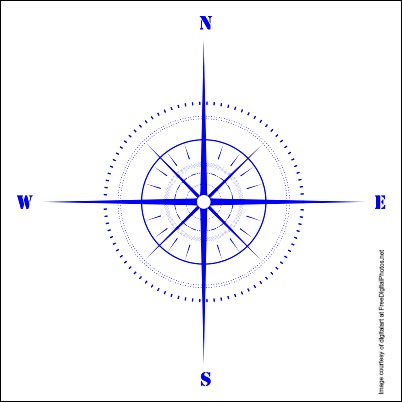 Many people look for help finding their direction. I don't know how it is where you are, but for as long as I can remember the sun has risen on the East and set in the West and the compass points North, unless it's broken.
When you're overwhelmed by the changes occurring around you, look for the certainties in your life. People who get lost forget to look at their dependable set points.
Calibrate Your Personal Compass.
Your North – Your true values, not the situational ones you use to justify fun.

Your East – Your motivating purpose. Why you bother to get up in the morning. 

Your South – How you rejuvenate and lift your spirits. 

Your West – What you dream about, or want to bring about.
If you can pinpoint these directions, you're not lost. You know exactly where you are.
If you're having trouble, make identifying each personal direction, your goal. Discovering where you are is not terribly difficult and it's essential before you attempt to figure out where you're going next and what vehicle you'll use to get there.