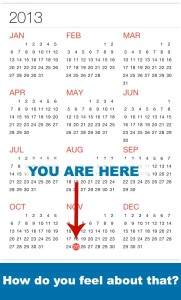 Depending on your perspective, this year is coming to a close too fast, or not fast enough. Either way, are you prepared to finish strong or start smart?
The holiday season is often harried, filled with gatherings, gift-giving, gratitude and guilt.
Guilt?
Sadly, yes. Thoughts of, 'Did I do enough?' creep in.
'Did I put enough thought into that gift?'
'Did I spend too much money?'
'Did I forget anybody?'
'Did I eat or drink too much?'
'Did I do enough to help at work?'
'Did I give enough to charity?'
'Did I save enough money for my bills?'
Enough already. Enjoy what you have and what you've done. Use the time to celebrate and re-create.
This week I want to help you and your friends finish this year strong and start the next one smart, so be on the lookout for some exclusive coaching and ongoing personal development offers from Karl Bimshas Consulting.
Just in time for Black Friday … and Small Business Saturday … and Cyber Monday … and any day that's important for you by your own design.