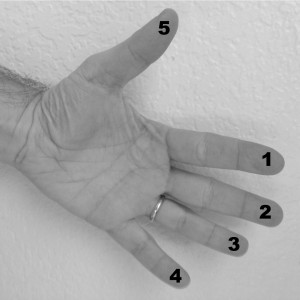 Depending on your perspective, Sunday nights can be filled with anxiety or anticipation, as thoughts of Monday and the week ahead inevitably creep in.
Whether you're feeling overwhelmed with too much to do, or apathetic and without a clue, let me lend you a hand with a tip that will help you plan your day. 
Make a list of five daily tasks, or use your own fingers to help remind you of your priorities.
The index finger.

This is your primary focus, something you NEED to get done. It's important, and probably urgent. It's your number one task.

The middle finger. This is something you don't necessarily WANT to do, but you NEED to do it, or things will become much worse for you.
The ring finger. This is something you're committed to. A passion project or long-term goal. Do something that can make a positive impact, and move it forward.
The pinky. This is something that requires delicacy, precision or class. It may take some time and patience, but doing it right is important. Think high quality and high standards.
The thumb. This is something just for you, when everything else is done. It could be something that will soothe you and help you relax, or it could be something that helps you celebrate the completion of the other four tasks.
Complete five to-do's that fit these general categories everyday and within a week you'll realize your success is in your own hands.