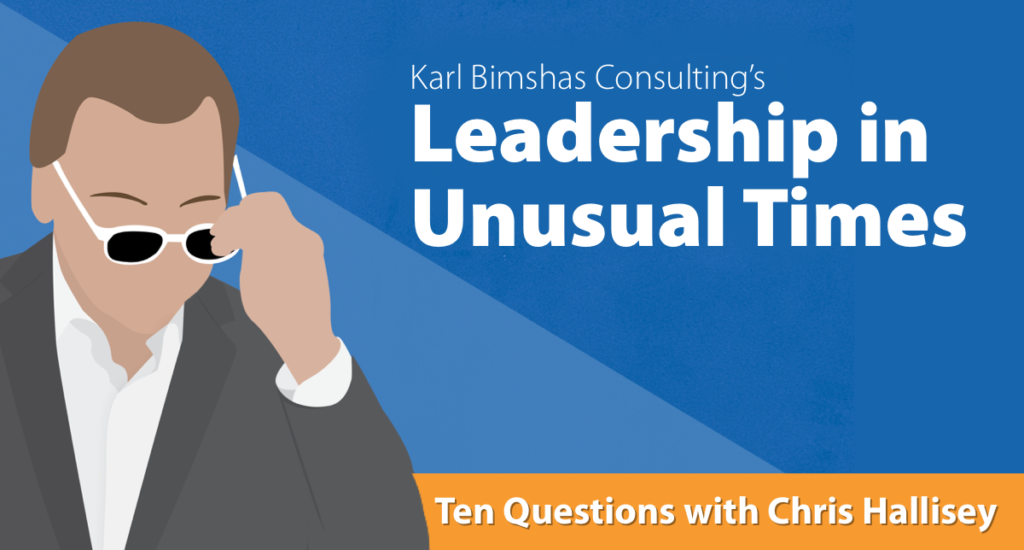 Karl Bimshas Consulting's "Leadership in Unusual Times," looks at how busy professionals are navigating the physical, mental, economic, and societal challenges in 2020 and beyond.
Q: Who are you and what have you been doing lately?

I'm Chris Hallisey, Owner and Lead Designer of Balboa Design Group. A modern remodel and design firm dedicated to bringing sustainable solutions to our projects.

I've been working out of my home office for the past two months. We still have clients who are moving forward with remodels during this time. For my company, it's really been about shifting our business practices to more of a digital format.
Q: Where have you been putting your focus?
In relation to my business, I've dedicated a lot of time and energy to marketing. Personally, I've been more focused on my spiritual journey – meditating like I never have before, reevaluating my personal mission and goals, and practicing gratitude for all that is beautiful in my life.
Q: What have you learned about yourself in the last few months that you didn't know, or forgot?
I guess I had forgotten how great it feels to be outside in nature! Or had just been out of the habit of getting outside and exploring. A lot of my inspiration and passion for design actually comes from nature. My creative brain definitely thrives when I get outside and get recharged, re-energized, or just give my self a complete reset from work and everyday life.
Q: How's business?
It's actually been pretty steady the past couple of months. I'm grateful for the clients that have put their trust in me during this time.
Q: Do you have any predictions?
Eventually, we will come out of this. And I think a lot of us will be better because of it. Humans are resilient and incredibly adaptive. I think the lessons we will have learned during this time will serve us well and help to push us forward.
Q: Do you have any tips related to Physical, Mental, Economic, or Societal Health others might find useful?

Meditation has been huge for me! I always used to shrug off meditation as a little too corny or woo-woo crazy. Even though I had seen positive tangible results from meditation in the past, I never really gave it much thought or effort. My biggest excuse was, "I don't have time." Well, once we were on stay-at-home orders, I really couldn't use that excuse anymore – I had nothing BUT time now. I wasn't being rushed out of the door each morning to meet with clients or get other tasks done.

Committing time each morning (even if it's only 5 mins) to center myself in gratitude and get clear on my goals and tasks for the day has been instrumental in keeping me active! It reinforces my "why" each day, and has been a powerful tool to keep me motivated and productive. I can clearly see the tangible results in my physical, mental, and economic health. The impact on those areas is pretty immediate and obvious, but I also think it plays a vital part in societal health as well.

Without sounding too self-aggrandizing (hopefully), I can see how taking the time to care for my physical, mental, and emotional health is beneficial to society as a whole. The energy I carry into the world has an impact, and I'm responsible for that impact. I have no control of this situation, or how other people act or react during this time, but I do have control over my actions and reactions, and I'm really trying my best to practice gratitude, kindness, and positive vibes.
Q: Thorns and Roses: What's been especially prickly or uncomfortable for you, and what's been surprisingly beautiful in the last few months?

Prickly – Encountering things that I'm not good at, or just don't know how to do yet. Specifically around email marketing and social media. I'm just not that technologically savvy, but I proud of myself for not giving up! There's a youtube tutorial for just about everything these days, and when I don't know how to do something, I ask the google machine for help!

Beautiful – Taking time to stop and smell the roses! The hustle and grind of everyday life have been put on pause, and it's really allowed me to look around at all the beauty I have in my life.
Q: Do you have any leadership lessons or tips you could share?
It's funny, I don't really consider myself a leader. But, I guess running a business kinda makes me a leader by default. Since I'm a solopreneur, it's really about keeping myself motivated and moving forward.
Q: What's next for you?
I have several ideas in the works to extend my community reach, and expand my business. Maybe a podcast, or YouTube Channel related to design myths and misconceptions. More will be revealed!
Q: Where can people learn more about you and what you're working on, and what action would you like them to take?
Go to my website www.balboadesigngroup.com
My Instagram handle is @balboadesigngroup
Please subscribe to our email list for design tips and trends.
---
"Leadership in Unusual Times," is the interview series from the Reflections on Leadership Podcast. Host Karl Bimshas, speaks with busy professionals in various stages of their career and along different paths in their leadership journey to learn how they are navigating the physical, mental, economic, and societal challenges in 2020 and beyond. Listen to the Reflections on Leadership podcast wherever you get your favorite shows or click the button below.