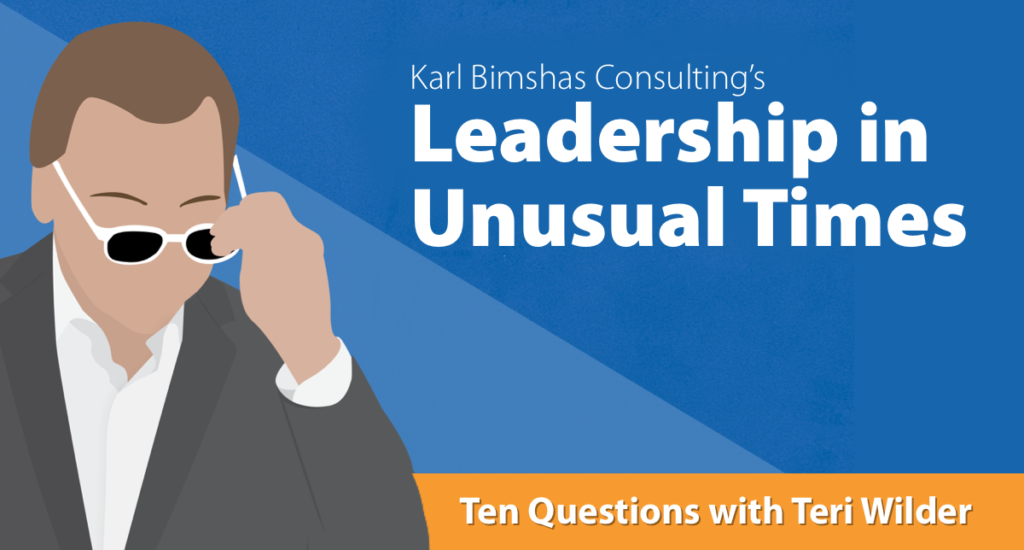 Karl Bimshas Consulting's "Leadership in Unusual Times," looks at how busy professionals are navigating the physical, mental, economic, and societal challenges in 2020 and beyond.
Q: Who are you and what have you been doing lately?
I am Teri Wilder, Singer/Songwriter/Sound Healer/Reiki Master/ Medical Intuitive Student Working on creating a quality online presence for my sound healing, learning new equipment, and technical opportunities. Also, doing my work as a student in Medical Intuitive training, doing readings, studying for my certification (coming up early summer).
Q: Where have you been putting your focus?
As this lockdown time has unfolded, my focus has shifted from day to day. My eating habits have changed for the better, although exercise has dropped. My work on mental health has been learning new ways in which I can do my work (online), which also touches on financial health. Zoom has been a bonus for touching base with friends & groups, but I long for physical presence with others (which I won't do until I feel it's safe for myself & others). Spiritual health has been a daily practice in the form of meditation and inner reflection & work.
Q: What have you learned about yourself in the last few months that you didn't know, or forgot?
My inner fortitude is strong. Removing lots of activities has made me more aware of and sensitive to my inner world, how I see and experience life, and my behaviors. Lots of conversations with myself in solitude has been a journey, both rough and exciting. Some new terrain, some very old.
Q: How's business?
No business for the first several weeks. Now that I've accomplished the ability to provide online, I'm able to create some income. It's okay right now, and I see lots of big opportunities unfolding.
Q: Do you have any predictions?
The world will never be the same. I see us all moving towards a more technology-based experience in all arenas, some of which I'll participate in, and some of which I prefer the old-fashioned means of in-person connections. I have hopes for better health care and financial structures being in place.
Q: Do you have any tips related to Physical, Mental, Economic, or Societal Health others might find useful?
Stay connected with others. That's been huge for me. Too much isolation isn't healthy, and lots of shared information and experiences boost our abilities to manage our lives better. We are social creatures, and no one does it alone.
Q: Thorns and Roses: What's been especially prickly or uncomfortable for you, and what's been surprisingly beautiful in the last few months?
Thorns – No hugs, lack of in-person interaction, the stresses around going out (mask, gloves, touching the face, what's safe, etc.).

Roses: Zoom calls with family & friends, a "forced" learning of new technology that is expanding my business, lots of time to do my Medical Intuitive homework (very time-consuming!)
Q: Do you have any leadership lessons or tips you could share?
It's just me in my business, so making myself accountable to people has been a good way to stay on track with things I need or want to accomplish to reach goals and stay in business.
Q: What's next for you?
I am getting certified in my new business as a Medical Intuitive and promoting my new online business.
Q: Where can people learn more about you and what you're working on, and what action would you like them to take?
Visit my website: www.TeriWilder.com
And Facebook page: https://www.facebook.com/TeriWIlderHealingSanctuary/
---
"Leadership in Unusual Times," is the interview series from the Reflections on Leadership Podcast. Host Karl Bimshas, speaks with busy professionals in various stages of their career and along different paths in their leadership journey to learn how they are navigating the physical, mental, economic, and societal challenges in 2020 and beyond. Listen to the Reflections on Leadership podcast wherever you get your favorite shows or click the button below.